Southern Cross Connection Term 3 Week 4
Filter Content
Southern Cross Connection Term 3 Week 4
MacKillop Day on Wednesday, 8 August marked the celebration of the feast day of Mary MacKillop. She is Australia's first saint and House Icon of our College. Mary MacKillop came from a large family and, as the eldest, cared for her younger siblings. This began the start of Mary's care and compassion through teaching that led her to 'not see a need without doing something about it'. In a similar way, the students in MacKillop House belong as members of a family, where the older students look out for the younger ones.
We celebrated the day by joining together as a House, by wearing red, playing games on the oval organised by the Senior school students, decorating biscuits, face painting and sharing in a slice of pizza or two.
Catholic Education Week including Bishop's In-Service Day
Last week was a wonderful celebration of what we do that makes Catholic Education so critical to our students and community. It culminated with a day for all staff at St Saviours College in Toowoomba where around a thousand staff gathered to hear the key messages from the Bishop, other key members of the Diocese of Toowoomba Catholic Schools and Father Richard Leonard, our keynote speaker. Fr Leonard is a profound, enthusiastic, challenging, highly educated and passionate Jesuit priest currently working in Northern Sydney, though educated in Catholic schools in Toowoomba. He is a highly regarded academic across many fields and last week enlivened our faithful spirit as we addressed the current data relating to religion and education in Australia. From this it was clearly evident that despite some challenging demographic changes up until and including the last census, there are a vast array of critical aspects that Religious Education is providing for the future of our nation. In the lead up to the Plenary Council in 2020, Australians are being asked to reflect on what it is our church may look like in the future, who will make this formation a reality, and what role people see themselves as playing into the future. In a time of distinction between "faith" and "the Church" Fr Leonard challenged us not with "Will our youth have faith?", though rather with "Will our faith have youth?". I encourage all and sundry to investigate the Plenary Council and take the time to reflect and contribute to the future direction of Catholicism in Australia, including the impact that this Plenary Council will have on Catholicism all around the world, including the Vatican.
Non State School Accreditation Board Review
On Monday we underwent our NSSAB review with John Coman and John O'Brien and all went well. As a means to improving our practices we are further refining our practices which may mean some small changes in signing in, volunteering and general interactions in the College. As these are taking place we will ensure you are well informed through the Office and your sign in, to ensure that we are exemplary in our practices with conduct of visitors on school grounds, as well as student protection.
Welcome Mr Gillespie
With Mrs Hobson doing a great job in Chinchilla as Acting Principal for the remainder of the year, we are pleased to announce Mr Stephen Gillespie as our Assistant Principal Teaching and Learning for the remainder of the school year. Mr Gillespie has much to offer the College Leadership Team, and although quite busy attending professional learning throughout this week, his focussed work in teaching and learning will continue and enhance Mrs Hobson's legacy for our students' learning. We are currently confirming Mr Gillespie's replacement, ensuring continuity of learning for all classes is our priority.
Senior Schooling Update
Today Mr Hobson, Mr Gillespie and I are attending professional learning in continuing our College's preparation for the implementation of the new QCE system and syllabi in 2019 and beyond. There is much that will change and the processes and transparency of teaching and learning align very closely with all of our work in Visible Learning. One of the most significant shifts in thinking is that the content of the course is no longer the primary concern, it is the cognitive skills of the student to ensure they can respond to the assessment in a manner that clearly and acutely addresses the cognitive expectations of the assessment. Simple knowledge recall will no longer allow a student to achieve as the assessment is designed to address the ability of student to comprehend, analyse and utilise the knowledge within a response. We will continue to work with staff in aligning our professional learning, including the senior school professional learning day on the last day of this term.
Community Goodwill
Thank you to all and sundry in their support of our search for a missing child yesterday. The student was found safe and sound. What struck me yesterday was the enactment of our Christian values in the situation. We have dozens of staff, parents and community members who immediately and actively took action with the sole purpose of looking after our student. There were cars driving all around Dalby, people scouring the school grounds, dozens upon dozens of phone calls made, answered, returned and followed up, as well as sharing of Facebook posts to maximise the impact of communication (16,000 people were reached through your collective sharing). I am proud to know that no matter the personal cost, when the need arises our community is infallible in its dedication to loving and supporting one another.
Thank you everyone, from the bottom of my heart, and God bless,
Peter Cuskelly
Principal
There is much media attention at the moment about the plight of our farmers in this continuing drought. Being located in a rural area, we may have a deeper understanding of the affect of this natural disaster on our farmers and the communities in which they live. We encourage you to consider those affected directly and indirectly by the drought and to support those in need via donations, advocacy and prayer:
God.
We see You in so many places - when we are seeding in the middle of the night and look up at the vastness of the universe and see a falling star when we are watching a beautiful sunset, a calf being born, or the ripples made on a dam from flicking flies.
We feel You in so many ways - when we are running the dirt through our fingers, feeling it, smelling it and knowing that it is from this earth from which we came and to which we will return.
When we are driving our trucks along our roads, when we are sitting in front of a warm wood fire, when we watch our children feed the pet lamb or when we share happy times with family and friends.
God.
We see and feel You in so many different ways but we know that You are there.
We thank You for all the good things in our lives, the stability of our Governments, our political and religious freedom and the easy way of life that is part of being an Australian and which we so often take for granted.
Today, Lord, we ask You to look upon us and give us the rain we so badly need in order to grow our crops and pastures so that we can provide for our families and fulfill our obligations.
We ask that You grant us the support and comfort of Your presence so that we can get through this season, not matter what the outcome.
Through our Lord Jesus Christ.
Amen.
Daniel Morcombe Child Safety Curriculum
Throughout this Term, our College will be implementing the Daniel Morcombe Child Safety Curriculum with students in Prep- Year 10. The curriculum is based on principles of best practice in child safety education and centres around three key messages: Recognise, React and Report.
This week we are starting to implement the final key message of the Daniel Morcombe Child Safety Curriculum: report. This means that when children or young people have been in a situation that is unsafe that they are taught to report what has happened to an adult. Even if a child has been able to make themselves safe, it is vital that they still report what has happened. Adults need to know about unsafe situations so that some action can be taken to help the child be safe again or ensure it doesn't happen again.
Students involved in the Daniel Morcombe Child Safety Curriculum will be encouraged to make a list of adult safety helpers. These are adults the children and young people nominate whom they can talk to when they are feeling unsafe or have experienced an unsafe situation or feel they are at risk of something that may cause them harm. This list will include a selection of adults who live in and outside the home.
Report also includes telling an adult about unsafe or inappropriate incidents which may occur when children or young people are online. This might occur when surfing the net or using social media sites like Facebook and twitter, and can include cyberbullying, viewing or receiving inappropriate images or messages or communicating with unknown contacts.
40 Hour Famine
The 40hr Famine Backpack Challenge is drawing closer, with less than 2 weeks to go August 17- 18 – students may like to organise a group to take part in this wonderful fundraiser. Thousands of young Australians will be showing their solidarity with refugees around the world, who are doing it tough.
ST JOSEPH'S PARISH RECONCILIATION

The sacrament of Reconciliation will be celebrated at St Joseph's during the week beginning 19 November 2018. The Sacramental Program of preparation will begin with a group meeting on Thursday 11 October at 7:00pm.
Who is eligible? Children who
Have been baptised, and

Are currently in year 2 or above.
If you would like to enrol your child in this Sacramental Program please contact St Joseph's Parish with your child's name and parent/guardian contact details, 46624011 or dalbyparish@twb.catholic.edu.au or Cate Brennan via OLSCC Office. Enrolment forms and payment will need to be completed at the information night.
Cate Brennan
Assistant Principal Mission
Dalby Eisteddfod Verse Speaking and Instrumental
Last Thursdsay, several classes from the Junior School competed at the Dalby Eisteddfod in the Verse Speaking sections.
As a whole group, our students performed exceptionally well with some outstanding results recorded.
Mrs Dellit and Mrs O'Brien's Year 1A and 1B classes combined to perform the 'Jellycopter' and received a whopping 92 points to be awarded first place in their section. Adjudicator Felicity Bassingthwaight commented on the beautiful smiling faces of the group that immediately caught her attention. She praised the students for their eye contact and the appropriate choice of verse which was very well performed.
Mrs Cruickshank's 4B Class performed 'Hunting the Not Fair' by John Hepworth in their section for students in Year 4 to 6. The students took out an impressive first place with a massive 94 points. The adjudicator commented on the different voices and the composition of the very long peom which was well recalled and presented. Both 4B and the Year 1A/1B group will perform at the winner's concert next Teusday evening.
Three other classes also performed including 2A/2B with their poem 'The Dinosaur Rap" for which they were awarded 2nd place with 92 points, Year 4/5 perfromed 'The Dentist and the Crocodile' and received a Highly Commended while Year 4A were placed 3rd with the poem 'Sick'. Congratualtions to all the students and their eachers for representing the College to such a high standard in the Verse Speaking.
On Monday, three Instrumental Music students competed in the Instrumental sections at the Dalby Eisteddfod which is the first time we have had competitiors in this area for a very long time. Alyssa Ferguson, Amelia McNaughton and Gabby Banks performed in two duets and although they did not receive a place, they did exceptionally well and produced high quality sound and composition. Well done to these three girls on their debut on the Instrumental stage.
Junior
Catholic Netball Results
Congratulations to all students who competed at the Catholic Netball Carnival in Toowoomba last week. Both Teams had fantastic days finishing 2nd after only losing the one game. Thanks to Miss Crow and Mrs Wilkins for coaching our teams and senior students Shiro Frid and Taylah Hoefler for umpiring on the day. Thanks to Erin Pascoe for assisting in the recording tent.
| | |
| --- | --- |
| Year 5 Results Division 2 | Year 6 Results Division 1 |
| Win against St Saviour's, 20 - 0 | Loss to Our Lady of Lourdes 1, 11 - 1 |
| Win against St Stephen's 2, 18 - 0 | Win against St Saviour's, 13 - 0 |
| Loss to St Stephen's 1, 14 - 6 | Win against Lourdes 2, 13 - 0 |
| Win against Sacred Heart, 10 - 0 | Win against St Mary's Warwick, 14 - 2 |
| Win against St Mary's Warwick, 8 - 6 | Win against St Thomas More's, 17 - 0 |
| Win against St Thomas More's, 17 - 0 | Win against Mater Dei, 10 - 5 |
| Overall finished 2nd | Overall finished 2nd |
Catholic Touch Football Results
Congratulations to all students who competed at the Catholic Netball Carnival in Toowoomba last week. Both Teams had fantastic days finishing 2nd after only losing the one game. Thanks to Mrs Hegedus and Mrs Lockhart for coaching our teams and senior students Dan Gillespie, James Hegedus, Ky Kirtley, Dusty Brown and Lachlan Wilkins for their assistance in training our teams. The Year 5 Team had a great day winning all their pool games before losing the final to St Mary's Warwick. The Year 6 Boys Team dominated Division 2 last year as Grade 5 students and therefore play Division 1 this year but came up against some very skillful opponents. The Year 5/6 Team enjoyed their Touch Football experience in Division 2 and managed one victory.
| | | |
| --- | --- | --- |
| Year 5 Division 1 Results | Year 6 Division 1 Results | Year 5/6 Division 2 Results |
| Win vs Sacred Heart 3-2 | Loss to St Mary's Warwick 3-1 | Loss to St Mary's Warwick |
| Win vs St Mary's B 4-0 | Loss to Mater Dei 9-0 | Loss to St Stephen's Pittsworth |
| Win vs Mary MacKillop 2-1 | Loss to Our Lady of Lourdes 2-1 | Win vs Our Lady of Lourdes 4-0 |
| Win vs St Thomas Mores 3-1 | Loss to St Mary's Toowoomba | Loss to St Thomas Mores |
| Final | Loss to St Thomas Mores | |
| Loss to St Mary's Warwick 4-0 | | |
Senior
Athletics
Students who wish to attend the Darling Downs Carnival in Toowoomba on August 30 (Track Events) and in Warwick on August 31 (Field Events) need to see Mr Lincoln this week.
Netball
The College has entered a team in the Under 15 Vicki Wilson Cup Competition to be held in Toowoomba on Sunday September 16. Trials to select a team will be held this Friday at lunchtime. Girls need to consider that many of them will be involved in the Sevens Rugby Carnival in Warwick on Saturday September 15.
Tennis
Next Thursday Ben Forbes, James Hegedus, Pat Kelly and Harry Daniel will attend the Darling Downs Tennis Teams Challenge in Toowoomba. The Boys finished 3rd last year in this event and have the same team again this year.
Volleyball
Best of luck to the Open Girls Volleyball Team who will compete at the QLD Senior Schools Cup Competition at the Gold Coast this weekend.
Tim Lincoln
Sports Co-ordinator
CBCA Book Awards
Here are more of the shortlisted books in contention for a Children's Book Council of Australia award. Winners will be announced during Book Week, 18-24 August.
Older Readers
Sometimes I feel like I'm neither one thing nor another. I live in the Mallee but I don't like the desert. I live on a farm but I get hay fever and I'm scared of goats. I like school but my best mates don't. I'm stuck between stuff. It's like I'm not meant to be here but I am.
Sandy Douglas knows that life at fifteen is hard, but it's even harder when your mother died a year ago and nothing's gone right since. His brother Red, on the other hand, is eighteen now and working the farm. He's amped up on rage and always looking for a fight. And then there's their dad Tom. He does his best, but - really - he doesn't have a clue.

As Sandy and Red deal with girls, dirt biking, footy and friendship, both boys have to work out who they want to be, without their mum around. The Mallee, where they live, may seem like the middle of nowhere, but it turns out this is going to be one hell of a year.
Younger Readers
A story about family, loyalty, kindness and bravery, set against an all-too-possible future where climate change has forever changed the way we live.
Sometimes bees get too big to be up in the branches, sometimes they fall and break their bones. This week both happened and Foreman said, 'Tomorrow we'll find two new bees.'
Peony lives with her sister and grandfather on a fruit farm outside the city. In a world where real bees are extinct, the quickest, bravest kids climb the fruit trees and pollinate the flowers by hand. All Peony really wants is to be a bee. Life on the farm is a scrabble, but there is enough to eat and a place to sleep, and there is love. Then Peony's mother arrives to take her away from everything she has ever known, and all Peony's grit and quick thinking might not be enough to keep her safe.

How To Bee is a beautiful and fierce novel for younger readers, and the voice of Peony will stay with you long after you read the last page.
Early Childhood
Rodney was a rabbit who loved nothing more than drawing. He never found it tiresome, tedious or boring. But then one day, disaster struck, the one thing Rodney feared, while working at his drawing desk his pen just... DISAPPEARED! A truly hysterical search for a missing pen, by award-winning author Michael Gerard Bauer.
Don't forget….
Book Week Dress-up Parade is on Thursday 23 August at 9:30am in the MPC. Come dressed as your favourite character from a book. Find your treasure in a book!
Are you our Reader of the Week?
You were spotted searching for a book at lunchtime recently. Please see Mrs Jenkinson for your reward. Well done!
This week, Year 7 and 9 students at the College participated in the ACARA Item Trial. The trial will be held in approximately 440 schools across Australia over a two week period.
The purpose of the trial is to evaluate potential questions for use in future NAPLAN tests. The students involvement and the results from the trial will help ACARA ensure that NAPLAN tests remain valid, reliable and fair for all students. The Item trial is about testing the questions, not students.
Participating students completed two Item Trial tests – Reading and Reading Conventions of Language (spelling, grammar and punctuation) test.
While there were some technical difficulties with the Online National Assessment Platform throughout the 2 days, the students' patience and enthusiasm to participate in the Trial is to be commended.
Year 7 Students will be receiving their 2nd Round of Immunisations at the College on the 22 August. Please contact Mrs Boland in the College Office if you have any concerns or if your child will be away prior to this date as it is important this course is completed.
Date: Wednesday 22 August
Vaccination: HPV (human papillomavirus)
The Australian Curriculum, Assessment and Reporting Authority (ACARA) is responsible for Collecting and publishing data on the My School Website each year, ACARA requests annually from schools' student background data to provide an indication of school's socio-educational backgrounds as reported by the ICSEA measure.
The data collected relates to each student's gender, date of birth, country of birth, ATSI status, background language, residential address, citizenship and parental occupations and educations.
Any parents/guardians not wanting their child's information forwarded onto ACARA are required to notify the College within seven (7) days of receiving this the privacy notice.
| | | | |
| --- | --- | --- | --- |
| Prep Blue | Jack Ashton and William Brannock | Prep Red | Amity Westerdale and Cody Raub |
| 1A | Marli Bruce and Miranda Child | 1B | Hugo Ham |
| 2A | Lucinda Conn and Phoenix Mcarthur | 2B | Lochlann McNaughton |
| 3A | Ryan Elder and Edward Williams | 3B | Madeleine Hemmings and George Morgan |
| 4A | Axel Donpon and Risie Catbagan | 4B | Olivia Ham and Charli Coleman |
| 4/5 | Maddison Gater & Gaetano Dimaunahan | 5A | Chloe Wilkins and Maddison Bradley |
| 5/6 | Cobie Wedrat | 6A | Lachlan Williams |
Our Lady of the Southern Cross College has a new app!
SZapp is a great way to keep up to date with our latest news and information. Using SZapp will give you easy access to information such as:
Newsletters on the go
Latest News & Reminders
Calendar
Policies and Documents
Event Bookings
Digital Forms
When subscribing to Our Lady of the Southern Cross College please make sure that you add yourself to any of the applicable groups. This will ensure that you are receiving all relevant notifications.
SZapp
Learn how to install the app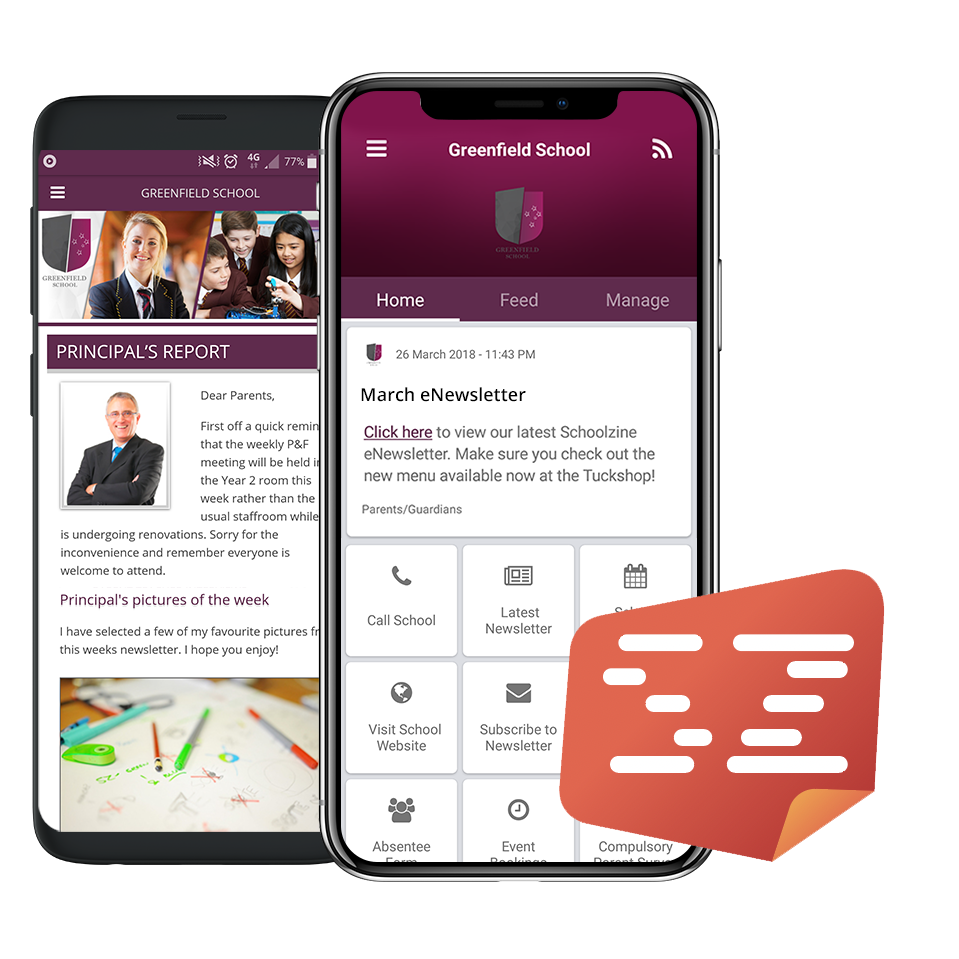 Apple Devices:
On your device, open the App Store.
Search the App Store for SZapp.
Download and install SZapp.
Android Devices:
On your device, open the Play Store.
Search the Play Store for SZapp.
Download and install SZapp.
Find your School
Select your school's region.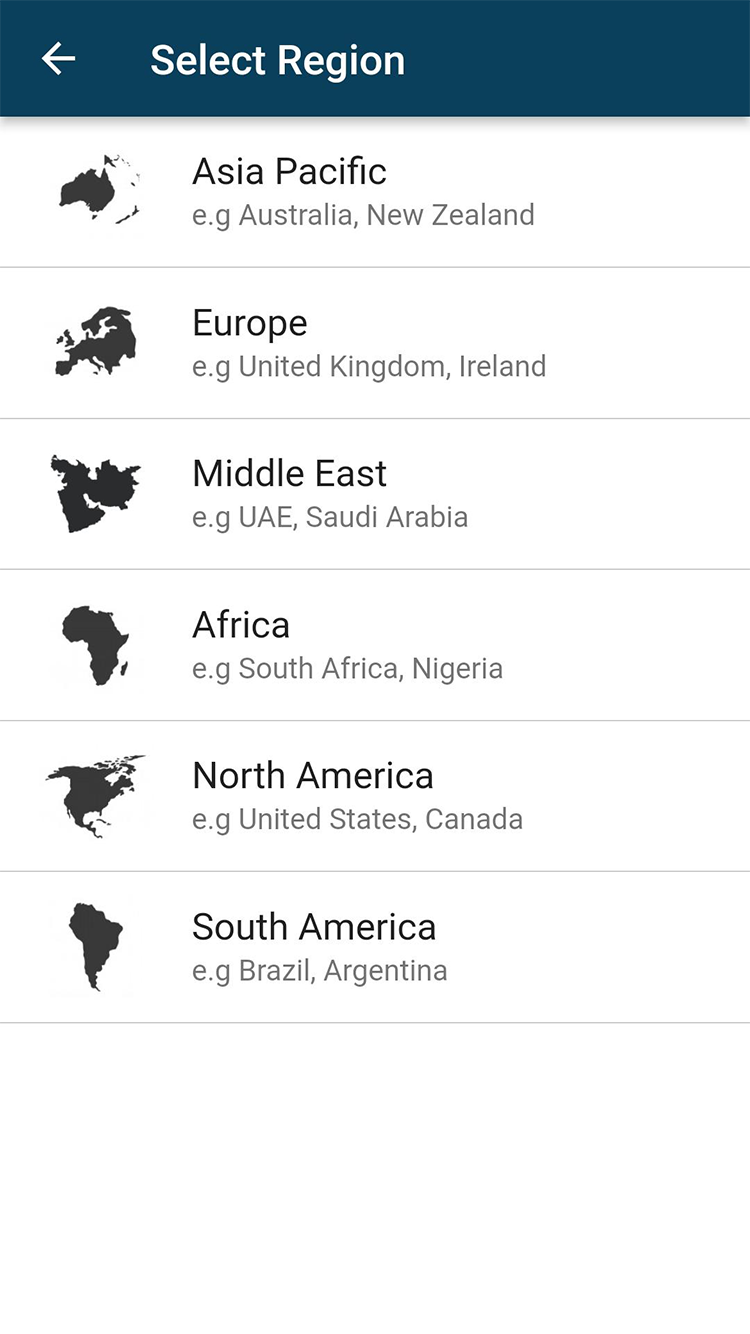 Search for and select your school.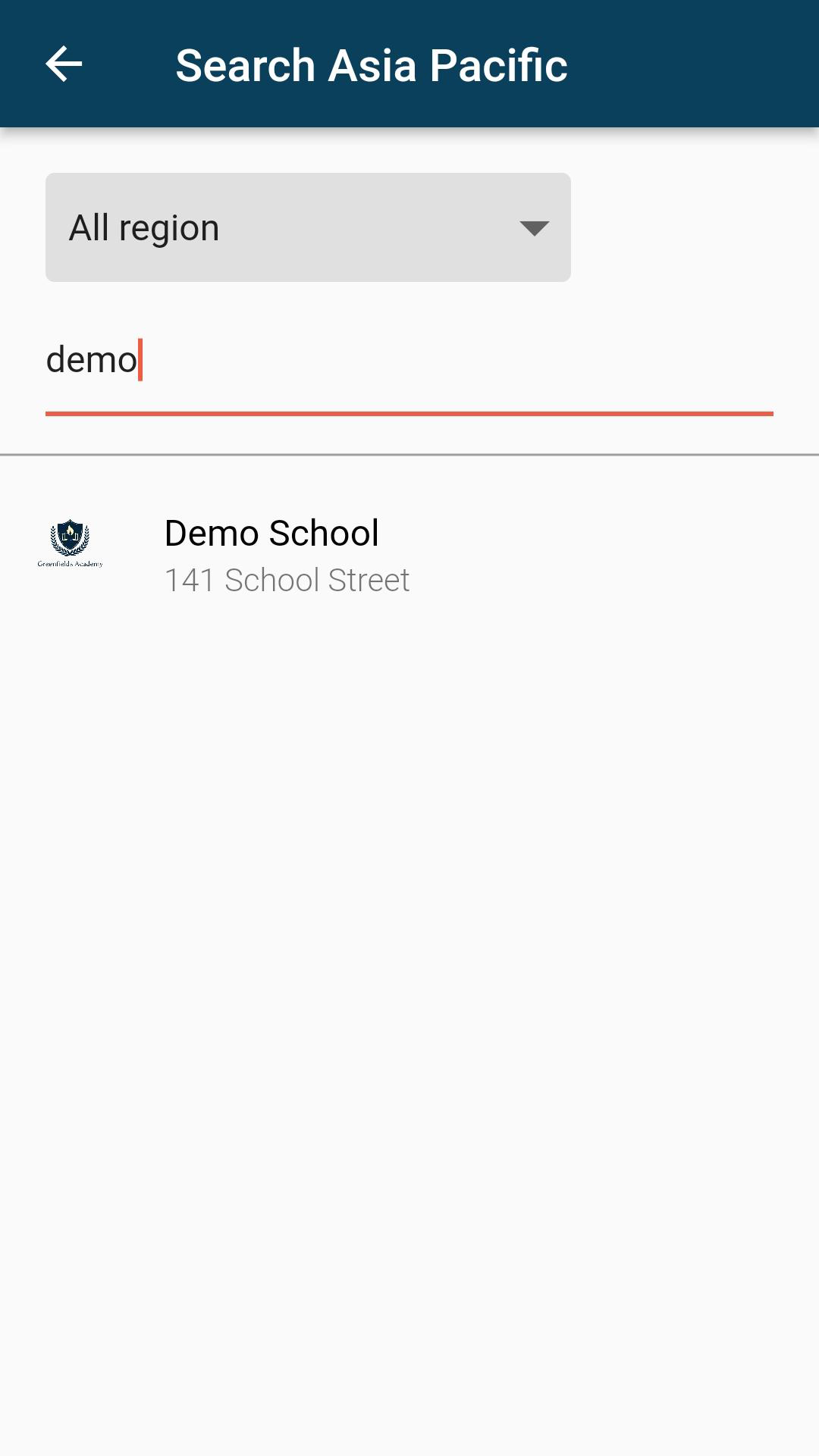 Register a User
Before you can add your school, you will need to register.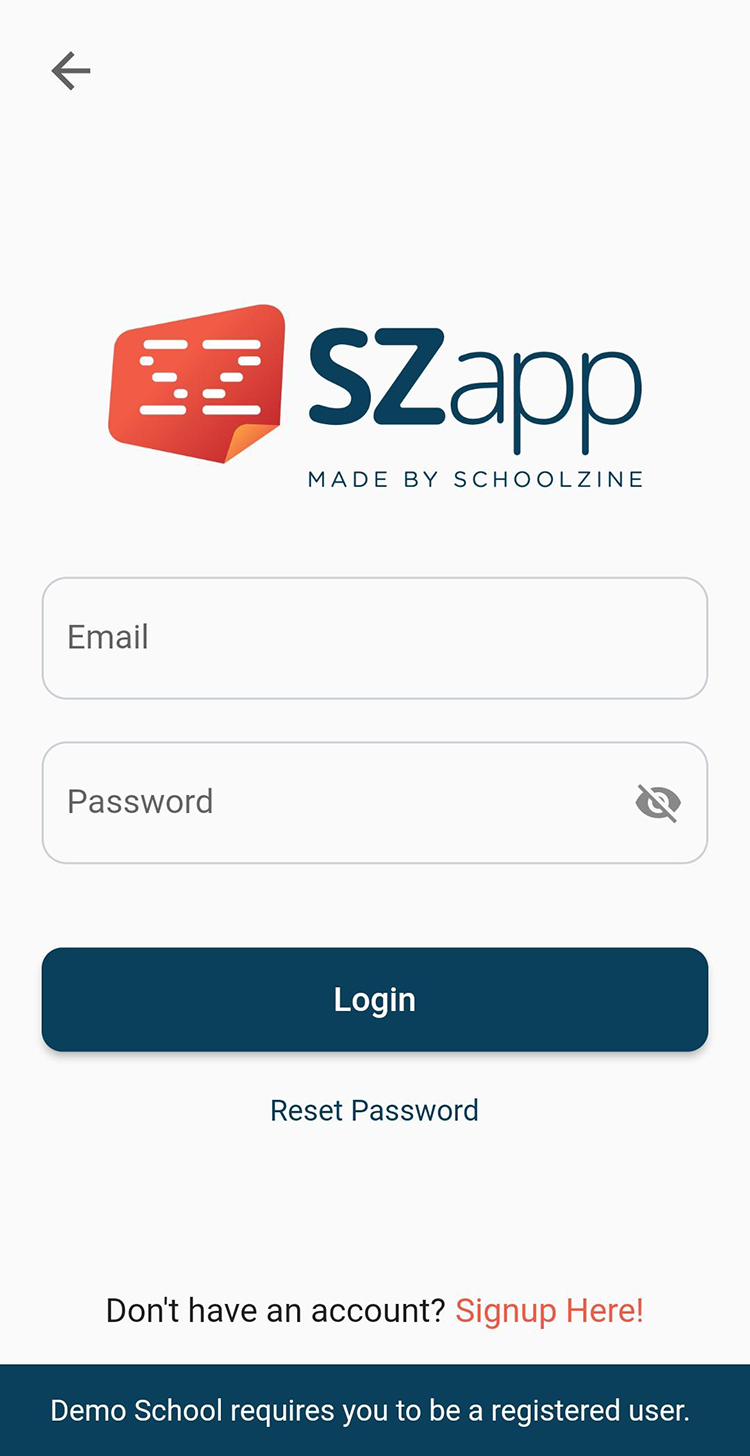 Enter your email and name.
Create your password.
Confirming your Email Address
Once registered you will be sent an email to confirm your email address. Open your mail program and click/tap the URL to confirm.
Upon completion, you will then be shown a confirmation screen.
Allowing Permissions
Upon installation of the update, you will be asked to allow access to storage on your device. This is required to ensure that SZapp can access the necessary files to store crucial data on your device.
Please click the affirmative options on each pop-up.
Note: The pop-up message you see may differ depending on your device.
Managing Notifications
Choose which group/s you would like to receive notifications from.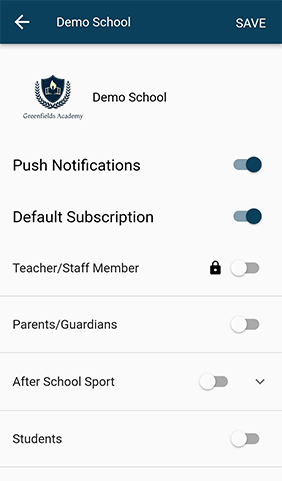 Groups with arrows indicate that there are sub-groups which you can join.
Home
The Home tab displays the most recent news item and links to important school information and tools.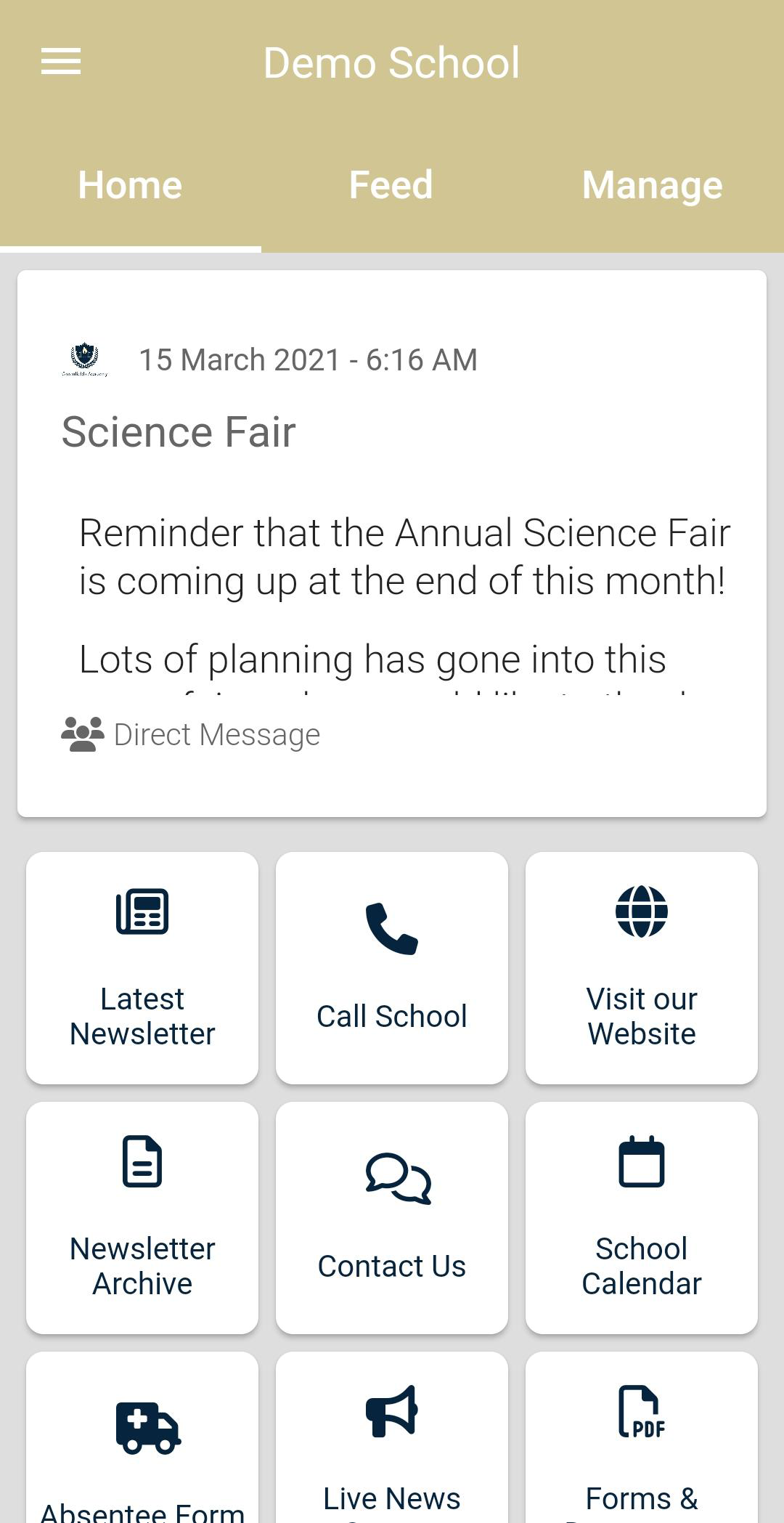 Feed
The Feed tab shows a summary view of all news items which you have subscribed to.
Manage
The Manage tab allows you to customise what information shows in your news feed and what push notifications you will receive.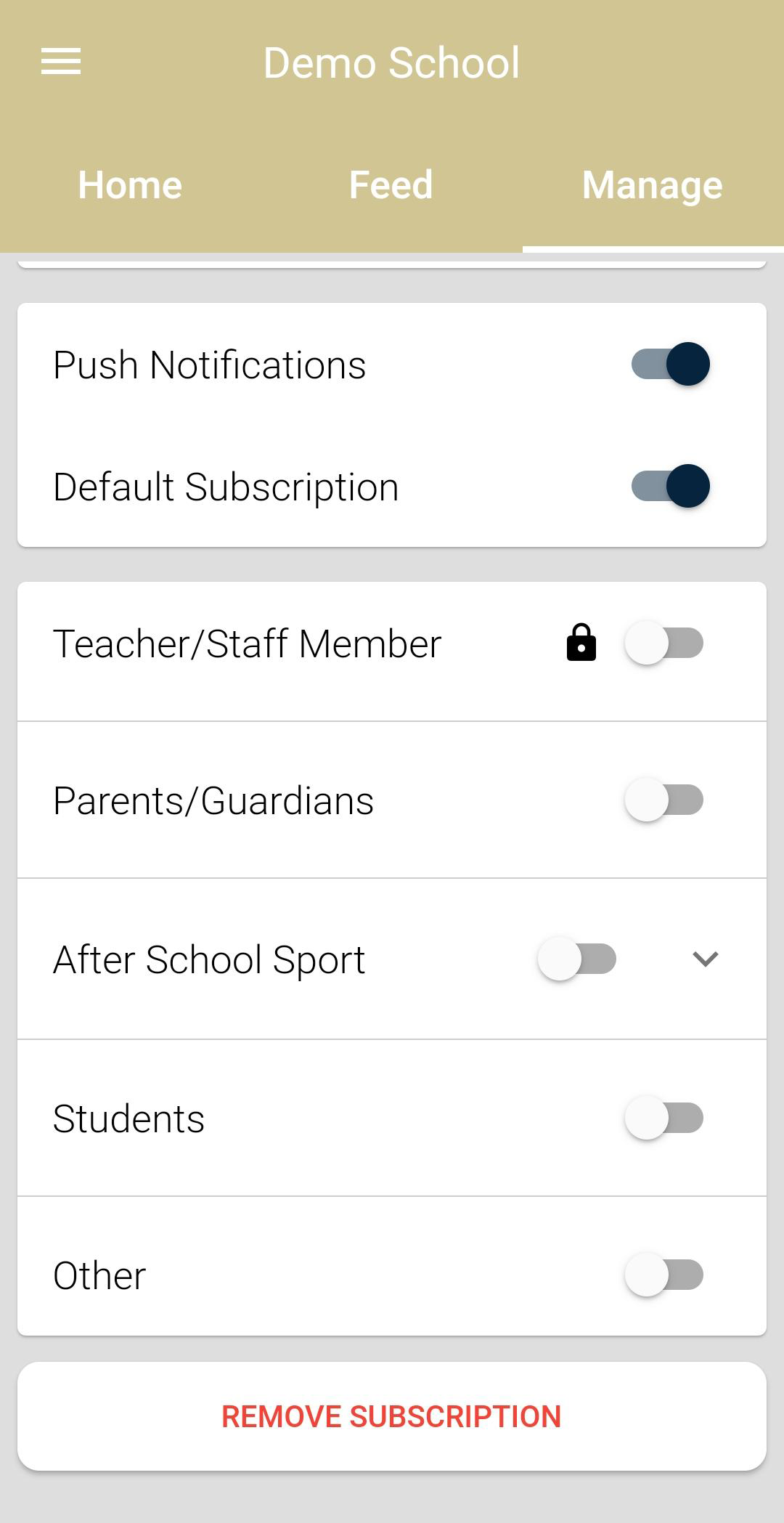 For more information please view our FAQs
We are proud to inform you that we will be producing a new eNewsletter format with Schoolzine. The purpose of moving to this new format is to engage the school community more effectively and provide parents, students and the community with a more effective and content rich newsletter format.
This new format will include videos, image galleries, online bookings, feedback forms, calendars, an app and much much more.
You can subscribe to receive the eNewsletter here: https://oloscdalby.schoolzineplus.com/subscribe
PLAYGROUP
Playgroup is on every Wednesday from 9 to 11am in Prep Green and everyone is welcome to attend. Weekly activities are planned and supported by experienced staff. Playgroup is also a great opportunity for parents to get together and enjoy a morning with their 0 to 5 year olds.
TUCKSHOP ROSTER
Friday 10 August Volunteer – none Baker – R Johnston
Monday 13 August Volunteer – none Baker – E Barwick
Tuesday 14 August Volunteer – none Baker – J Biggar
Wednesday 15 Aug Volunteer – none Baker – B Martin
Thursday 16 Aug Volunteer – none Baker – none
BEE KEEPING WORKSHOP
The Southern Beekeepers Association will be hosting an outing to the State Education Agricultural Centre which is located at the rear of Wilsonton High School, 429 Bridge Street, Toowoomba on Sunday, 19 August starting at 10.30am.
There will be demonstrations, workshops for assessing honey and honey tasting with the day concluding at 3pm. Lunch will be provided so for more information or to register your interest for catering purposes, email nev_hunt@bigpond.com.au
DATE CLAIMER
SRC will be holding a Social on Friday, 25 August. More details to come so mark the date in your calendar.
UNIVERSITY OPEN DAYS
University of Queensland, Gatton Sunday, 19 August 9am to 3pm
Griffith University Sunday, 12 August
University of Southern Queensland, Toowoomba Sunday, 19 August 10am to 2pm
University of Southern Queensland, Ipswich Saturday, 1 September 10am to 1pm
University of Southern Queensland, Springfield Friday, 7 September 3pm to 7pm
James Cook University, Townsville Sunday, 19 August
James Cook University, Cairns Sunday, 26 August
STUDENT PROTECTION CONTACTS FOR OUR LADY OF THE SOUTHERN CROSS COLLEGE
Please contact these officers via the College Office or in person.
Mr Peter Cuskelly, Principal
Mrs Melissa Irwin, Director of Teaching and Learning, Student Services
Mr Luke Holmes, College Counsellor
Mr Nicholas Blauw, Teacher
STUDENT PROTECTION CONTACTS APPOINTED BY THE CATHOLIC SCHOOL AUTHORITY TOOWOOMBA
Peter Simpson, Student Protection Officer
Barbara Woods, Student Protection Officer